CULTURAL EXPERIENCES
More than observing – be immersed.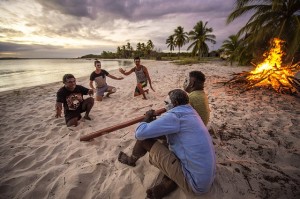 We got very excited when the Yolŋu leaders at Bawaka said to Why Warriors, "We'd love it if we could put your unique training about Yolŋu culture together with our experience for our guests at Bawaka. That would be amazing".
Our 5 day learning experience on country has been developed with Yolngu leaders to give guests the best possible Yolŋu World experience. This is not a tour or a safari. This is a once-in-a-lifetime opportunity to be actively immersed in real Yolŋu culture and return with a lived understanding of the world's oldest culture.
Guests will stay at the beautiful coastal homeland village of Bawaka, where they will experience the daily life of Yolŋu people whilst drawing from Richard Trudgen's 40 years of knowledge as a bridge between cultures.
You will be exposed to aspects of the original Australian Aboriginal culture that most Australians have never seen. Learn about traditional Yolŋu knowledge systems, kinship and ceremonial Law, surrounded by a sacred landscape. Be welcomed by an unforgettable 40,000 year old traditional Australian Haka.
Yolngu Elder Timothy Burarrwaŋa will personally show you around his yirralka estate which takes in wide unspoiled beaches, an amazing array of marine life, stunning cliff top ocean views and vast areas of pristine bushland.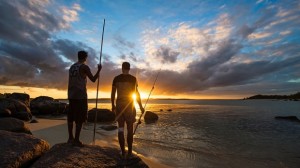 Small intimate group activities will include personal spearfishing trips for the men and traditional basket weaving for the women. Food will be hunted and gathered, and traditionally cooked over hot coals. And evenings will be spent sitting around the campfire, hearing families sing traditional and contemporary Yolngu songs, and sharing stories that have been handed down for many thousands of years.
Feel your senses will come alive to the real Australian experience, as you absorb the Yolngu traditional way of life in a magical setting.
Please register your interest, if you would like to take part in this unique experience.
Save
Save
Call 1300 501 795 if you have any questions.