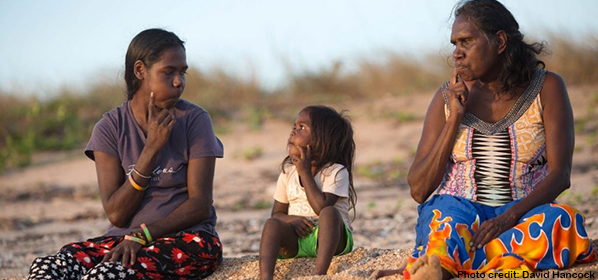 World first documenting of Yolŋu Sign language
The ancient art of Yolŋu Sign Language (YSL) is being documented for a landmark resource, to help prevent this rare form of communication from disappearing altogether.

This amazing project is a collaboration between anthropologist and linguist Dr Bentley James , Dr Elaine Maypilama, Professor Marie Carla Dany Adone, Yolŋu elders and a team of dedicated volunteers. Together they are honouring the vision of Senior Australian of the Year 2012 Laurie Baymarrwaŋa to save this priceless ancestral inheritance of Indigenous language.

Dr James has been studying sign language in East Arnhem Land for 25 years, with more than 10,000 photographs collected as part of the research for this unique language document 'The Illustrated Handbook of Yolŋu Sign Language of North East Arnhem Land'.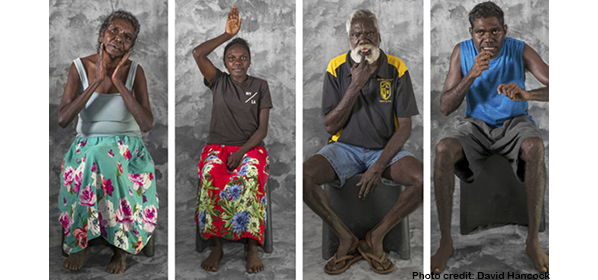 What is Yolŋu Sign language?
In the past, every Yolŋu person whether they could hear or not, used sign language, and today most of the 8000 Yolŋu Matha speakers still understand some signs but the number is declining significantly.

Dr James believes there are over eighteen hundred hand signs in Yolŋu Sign Language (YSL) with regional variations, but approximately 500 of the most relevant will be published.
"I think the first thing to understand about sign languages is they are of themselves a completely separate, full human language, so capable of being able to express the entire gamut of human relations," Dr James said. "But they run in parallel with the spoken language of the communities...., so it is in danger of disappearing as many of the other languages in Australia are."

So YSL is not a signed version of a Yolŋu language, but a totally unique and rare Australian Indigenous Sign Language. It's used when speech is culturally forbidden (as in mortuary periods and times of mourning), near sacred objects and in ceremonies, in dance, and in the company of key kin avoidance relationships. YSL is also used for practical reasons, such as communication over distance, secrecy, or for stealth in hunting.

Early anthropologists, such as Baldwin Spencer, noted that Aboriginal people in northern and central Australia used hand signs. Lloyd W Warner collected seventy signs from Milingimbi in 1929 but no comprehensive study was made until British academic Adam Kendon published a record of Warlpiri sign language in 1988.
This book of Yolŋu hand signs is the final unfinished project of Laurie 'big boss' Baymarrwaŋa.

Baymarrwaŋa was an extraordinary woman who spent a lifetime promoting the intergenerational transmission of local language and knowledge to sustain authentic livelihoods on the homelands. She was instrumental in creating the Crocodile Islands Initiative (CII), Crocodile Islands Ranger (CIR) and junior rangers program as well as a thousand kilometre Turtle Sanctuary. She was awarded Senior Australian of the Year in 2012. She also worked for over twenty years to save her language, creating Yan-nhaŋu Atlas and Illustrated Dictionary of the Crocodile Islands, which she distributed using much of her own funds.

Raising seven boys, she showed a younger generation the value of walking in the footsteps of the ancestors. She believed strongly in resisting pressures to assimilate, and passed on Yolŋu culture and languages, the unique gifts of the ancestors, for the future of all, according to Yolŋu law.

The book honours the vision of Laurie Baymarrwaŋa and gives opportunities for all to be part of, and contribute to, the aims and aspirations of this profound work. This project, if supported effectively, will ensure a stronger future for YSL.

The Illustrated Handbook of Yolŋu Sign Language of North East Arnhem Land documents, explains, illustrates and teaches YSL. It covers the vocabulary, alphabet and grammar, with captions and text in Yolŋu and in English. It's an easy to use and beautiful full colour guide, to be distributed free of charge to the children of North East Arnhem Land, as Baymarrwaŋa requested.

Go HERE to read more about this extraordinary woman, her life, and her commitment to save Indigenous languages.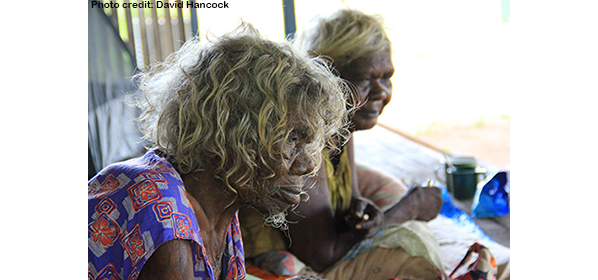 Please support this unique language-saving project
Please help complete Baymarrwaŋa's vision to save Indigenous language. Her instructions were that this is a resource of ancestral knowledge and not for sale. Instead donations are encouraged to assist in furthering the project of passing on this rare knowledge asset to the next generations.

With your support this book can be designed, printed, and distributed freely to schools, homelands, community organisations, and libraries.

The project is looking to raise funds by September 23 2019, which is 'International Day of Sign Languages'.

Donors giving more than one hundred dollars will receive a copy of this magnificent handbook as a gift.

Donations can be made at the projects GoFundMe page.

Many thanks to the The North Australian Indigenous Land and Sea Management Alliance Ltd (NAILSMA) for their fantastic support.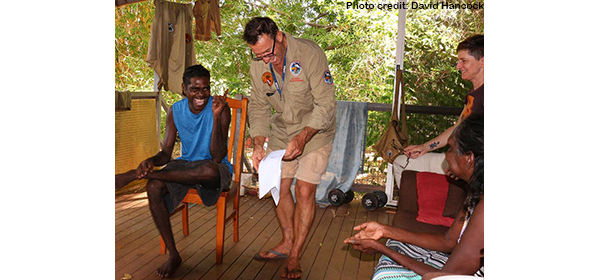 Want more information?
If you have any questions, please contact the project organisers directly.
Janely Seah
0488 068 738 or email Janely.Seah@nailsma.org.au,
or
Dr Bentley James
0402704354 or email bentley.james.dr@gmail.com

Follow Save Yolngu Sign Language on their Facebook Page
(Executive Assistant to Richard Trudgen)
From 2001 Justine worked with Aboriginal Resource and Development Services (ARDS) in Nhulunbuy as Event Manager, before joining Why Warriors in 2010. She has worked alongside Richard Trudgen for nearly 20 years. She studied English at the University of QLD and also has qualifications in community work and counselling.