Yolngu Radio
Knowledge is power they say so the lack of it is powerlessness. And that is the state of thing for the Yolŋu people of Arnhem Land. Still speaking their own language Yolŋu Matha, English is still very foreign to them.  So they miss out on essential mainstream information and knowledge that is delivered in English. Whether it be health information, economic news or new laws directly affecting them.
This has a devastating impacts on nearly every aspect of their lives. Sadly it also means they cannot meaningfully participate in decisions that affect their own lives as they are lock out of the conversation every one else is having.
In response to this information vacuum, Richard Trudgen established Yolngu Radio in 2004, as the then CEO of Aboriginal Resource Development Service (ARDS).
Yolngu Radio broadcasts to six major communities and 30 homelands across northeast Arnhem Land, as well as Darwin and Palmerston.
In 2012 Richard left ARDS due to ill health. He has been working in Why Warriors since that time. He now has his health back and Yolngu people have been pleading with him to get back on Yolngu radio. But it cost money to maintain equipment, pay research and support staff plus Yolngu co-producers. And it seems funding to give them access to information, an equal say and opportunity, does not exist.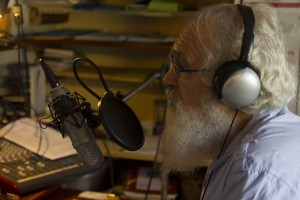 Health: Yolngu desperately want information on health issues. Richard has spent over 30 years learning how to explain a whole range of health issues in Yolngu Matha. "Where most are failing our Hope for Health program is turn back chronic disease amongst Yolngu people, now Yolngu want us to share this life saving information with thousands of their relatives across Arnhem Land. Radio and online audio programs is the way to do this.
Drugs & Alcohol: In the past Richard and Yolngu co-presenters produced many programs on drug abuse. Mainly teaching them about the effect of different drugs. "Drug pushers tell Yolngu lots of lies about the effects of drugs. This is to get them involved in the drug trade. With real information Yolngu are empowered to stop them."
Economic development: Yolngu want to develop businesses on their own lands. To do this they need access to a whole lot of information about market opportunities and how to develop a resource they have at their fingertips. "We need businesses right here on our own lands to stop our young people drifting off to Darwin where they get into drugs and come back in coffins."
Richard is working with Yolngu elders on many different exciting projects that the people can develop themselves but they need constant update of commercial information. As a speaker of the Yolngu economic language he is well placed to give this information. He just needs to be able to produce the radio programs.
Legal Rights: Many time Yolngu do not know that a law has been changed in Darwin or Canberra until they are being arrested for breaking that law. "Our people are filling up the jails for things we don't even know about. This is not fair!" Richard also speaks legal Yolngu Matha he also has a very good general knowledge of the law so can work between legal professionals and Yolngu Co-produces making three-way conversation very productive on radio.
ARDS runs the community broad-casting Yolngu Radio service on a day to day basis. Richard can produce radio programs in Why Warriors and deliver them to ARDS to play.  Unfortunately after three years of trying he has not been able to access any real funding.
Why Warriors is looking for funding partners who will team with us to give Yolŋu people a fair go, access to information.
If you feel lead to helping us, get Richard back onto Yolŋu Radio, please contact us.
Donate online to "Production for Yolŋu Radio".
Call 1300 501 795 if you have any questions.