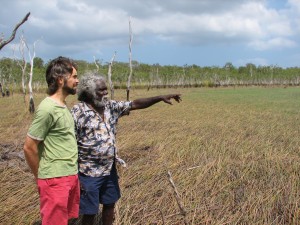 Having lived and worked with the Yolngu of Arnhem Land for more than 40 years, Why Warriors has developed deep relationships and unparalleled knowledge about Yolngu culture and language. Several of our staff speak Yolngu Matha, the language of the Yolngu people, at an academic level – some of the few people in Australia to do so. Richard Trudgen can speak fluently on legal, economic and health concepts, and is adept at covering a wide range of subjects after many thousands of hours of working with people in a range of settings.
As a result, Why Warriors is uniquely positioned to help Yolngu clients navigate what is often a foreign culture to them.
Via mentoring, radio programs, and videos in language, our services for Yolngu include:
ADULT EDUCATION

With English as a second language, and in many cases a third or fourth, many Yolngu lack sufficient understanding about many aspects of mainstream life that we as dominant culture citizens take for granted. This can range from basic economics, to business transactions and western conceptions of health.
CROSS-CULTURAL COMPETENCY TRAINING
In the same way that the dominant culture requires cross-cultural training when engaging with Indigenous communities, the same need applies the other way around. The bridge of reconciliation and understanding between cultures cannot just be built from one end, but needs to advance from both sides and meet in the middle, thereby giving it the greatest strength and resilience.
BUSINESS DEVELOPMENT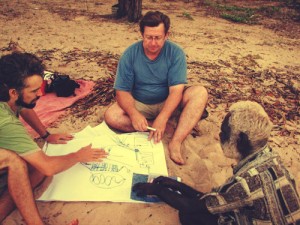 The Yolngu of Arnhem Land maintained complex international trading relationships for several hundred years before the arrival of Captain Cook. Unfortunately, successive government policies aimed at reducing their independence have destroyed those trade links and inter-tribal exchanges. Yet the Yolngu, like many other Indigenous nations across Australia, continue to possess a vast wealth of knowledge and skills that can be harnessed for their own economic development. At Why Warriros, we support Yolngu enterpreneurs and visionaries to achieve their business ambitions through mentoring and capacity building. (See Getting Yolngu Into Business for more info)
CROSS-CULTURAL MEDIATION & CONFLICT RESOLUTION

Because of its deep relationships with and respect from the Yolngu and wider Aboriginal community, Why Warriors is often called in to help mediate and resolve difficult cross-cultural situations. We can help parties to assess the situation in a more open-minded manner and calm tensions arising from cross-cultural misunderstandings and offenses.
Please contact us for more information.
Save
Save