Why Warriors Pty Ltd is a social enterprise company set up to make a difference for the Yolngu people of north-east Arnhem Land.
Please meet our bilingual-bicultural production and education team, and support staff.
Rev. Dr. Djiniyini Gondarra OAM – Researcher & Co-Producer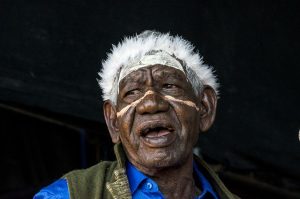 Rev. Dr. Djiniyini Gondarra OAM is a senior Yolngu elder, ceremonial lawman and clan leader of the Dhurili Nation of Northeast Arnhem Land. He lives in Galiwinku, Elcho Island in the NT.
He has been an influential advocate for Indigenous rights for most of his life. He has held positions like the moderator of the Uniting Church in North Australia, on the Australian Indigenous Cultural Network Steering Committee and on the Council for Aboriginal Reconciliation. In 2004, Rev. Dr. Gondarra founded the Mawul Rom Project at Charles Darwin University, which provides immersive cross-cultural training to non-indigenous mainstream professionals with the aim of nurturing respectful dialogue, mediation and decision-making.
He was involved in and starred in the documentary Our Generation, which won 'Best Campaign Film' at the London International Documentary Festival in 2011.  That same year he travelled to the United Nations in Geneva to speak first-hand to the Human Rights Commissioner, Navi Pillay, about the failed state of Indigenous rights in Australia.
He has Chaired The Arnhem Land Progress Aboriginal Corporation (ALPA) since 1993. ALPA is one of the biggest employers of First Nations people in Australia. In 1995 he was awarded the Order of Australia Medal (OAM).
In the mid-1990s and 2000 as CEO of ARDS he asked Richard Trudgen to rebuild the community development team and build Yolngu Radio. They started producing programs together back then. He is the senior member of our Why Warriors production team, producing podcasts for radio and online. He wants to create a dialogue where Yolngu people can have their questions answered about how the mainstream dominant English Australian culture operates so they can better control their own destiny.
Maratja Dhamarrandji – Researcher & Co-Producer

Rev Maratja Dhamarrandji is a Djambarrpuyŋu man who lives at Galiwin'ku in the NT.
He is one of a very small handful of Yolngu who has studied with the Summer Institute of Linguistics. He is also a trained theologian and began his career translating books of the Bible into Djambarrpuyŋu.
He has devoted his life to linguistics and regularly works as a bi-cultural consultant delivering cross-cultural training, translating, and interpreting. He works across a wide range of subject areas, including government and court interpreting.
However, Maratja will say his most important and influential training has come from Yolngu Madayin law. The 40,000 year old democratic law system of the Yolngu people. It's teachings of raypirri, the discipline of the mind-body and soul, helps him to conceptualise his relationship with the great Creator Spirit Waŋarr.
Maratja says Waŋarr places all human beings in a role of caring servanthood towards all created things, teaching you not to ignore the poor and broken but openly turn towards them and embrace them. He hopes for Balanda to know this same experience.
He is a valuable member of the Why Warriors production team as his knowledge of the Yolngu Matha relationship with English is invaluable.
Dianne Gondarra – Co-researcher/producer & Presenter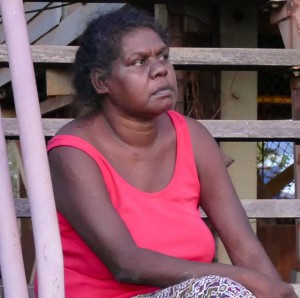 Dianne (Biritjalawu) is a Yolngu leader from Elcho Island in Northeast Arnhem Land. She has a Master's Degree in Indigenous Knowledge
from Charles Darwin University and a Certificate II in Business and Administration. She speaks four languages – Djambarrpuyngu, English, Dhangu and Gupapuyngu.
She is co-founder of the groundbreaking Hope For Health project, bringing knowledge around nutrition and well-being to her community.
Dianne co-facilitates 'Bridging the Gap' seminars with Richard as a way of sharing the depth of Indigenous knowledge with the wider Australian community. She teamed up with Richard many years ago to also produce radio, working mainly on an online audio dictionary for Yolngu parents and students. Currently, she is working on the chronic disease video series, a subject she is extremely interested in, as so many Yolngu people now suffer from it and have no understanding as to what is causing it.
She is a brilliant member of our Why Warriors bilingual, bicultural production team, always ready to unpack the complex meaning of the next confusing academic English word.
Witiyana Marika – Presenter
Witiyana Marika is a senior elder of the Rirratjiŋu Clan of Northeast Arnhem Land. He is the son of Roy Marika OBE, one of the original presenters of the 1963 Bark Petition, the first document prepared by Indigenous Australians ever to be recognised by the Australian Parliament.
Along with Dr Yunupingu, he was a co-founder of the legendary rock band "Yothu Yindi" and the Yothu Yindi Foundation, and he has toured the world many times over.
Witiyana is a senior ceremonial leader and teacher of songlines and ceremonies for his clan and community. He has often been the Djungaya Master of Ceremonies at the annual Garma Festival. He is seen on stage in Sydney at many of the New Year celebrations as a representative of the Yothu Yindi band.
He was previously Chairman of Buku-Larrngay Mulka Arts and Craft Centre, Dhimurru Land Management, and a Director of Bunuwal Investments.
Witiyana began working as a co-presenter at the Bridging the Gap Seminars in 1995. It is his photograph on the cover of the book "Why Warriors Lie Down and Die".
In 2020 Witiyana made his acting debut in the film 'High Ground', and also acted as a cultural consultant. He currently resides at Yirrkala with his family.
It has now joined up with Richard to try and raise dollars to produce videos covering the life-saving education he personally received from Why Warriors about rheumatic heart disease. He wants to make this education available to Yolngu people and wider to other First Nations people across Australia to give them a chance at life.
Richard Trudgen – Managing Director, Community Educator

Richard Trudgen has been a pioneering figure in community development and education for near on 50 years, of which 42 have been spent working with the Yolngu people of north-east Arnhem Land. Richard speaks Djambarrpuyŋu and was CEO of Aboriginal Resource Development Services (ARDS) for a number of years. With strong directions from Yolngu elders, he wrote the book "Why Warriors Lie Down and Die", built Yolngu Radio and spent 15 years presenting the Bridging The Gap seminars to audiences across Australia. Yolngu Elders are also pushing him to build an e-Learning online school in Yolngu Matha.
These projects empower Yolngu and share Yolngu culture and the crisis they face with the wider Australian community. The seminars are now going online with our new Cultural Courses platform.
Today Richard leads our bicultural, bilingual production team that is committed to giving Yolngu people access to answers about health, economic, legal, governance, general information, and hard English terms in their own language.
Some of our productions include; over 500 podcasts for Yolŋu Radio and our new Yolngu Learning Centre over the last four years, 30 videos to answer the people's questions about Covid 19 and a video series explaining Chronic Disease for Yolngu people who are suffering from the highest avoidable death rate in Australia. You can watch the first of these videos here, listening to the beautiful, highly intellectual Yolngu language while reading the English back-translation in this video.  We are looking for sponsors to help us finish this video series.
Sign up for our newsletter and media releases to get the latest news from Why Warriors.
Timothy Trudgen – Co-Founder, Director, Non-profit Projects Manager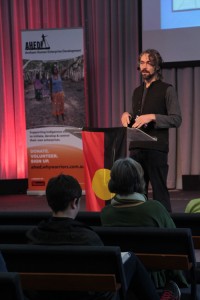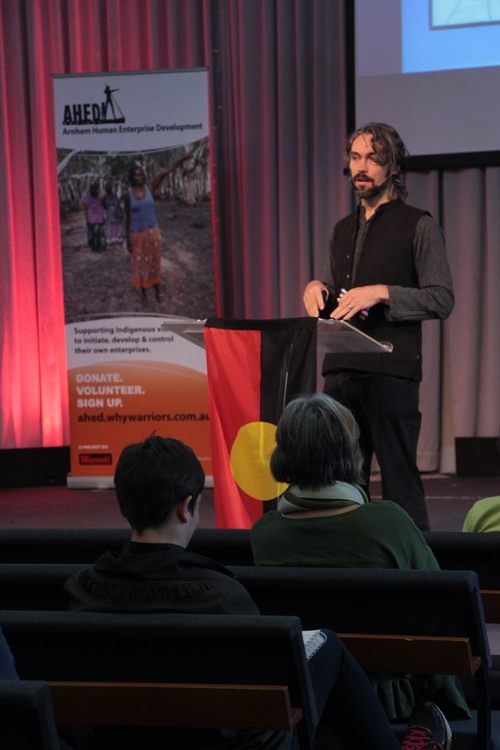 Timothy Trudgen founded Why Warriors with his father Richard in 2001, and has worked closely with the Yolngu people of North East Arnhem Land ever since. As the leader of the AHED program for 7 years, his work is focused on cross-cultural education (particularly in health and economics), and Enterprise Facilitation to help Yolngu implement their own visions for economic and social endeavours. As The Hope for Health movement blossomed out of the AHED program Timothy developed and delivered its educational curriculum.
He was CEO of the Hope for Health program and saw it established in its own right through a partnership with a local Yolngu committee of inspiring women. He speaks Djambarrpuyŋu and has been adopted into this clan nation through his father. Timothy holds a BSc (Hons), and BA (Anthropology)(Hons) with a Grad. Cert.(Theology).
Keira de Hoog – Communications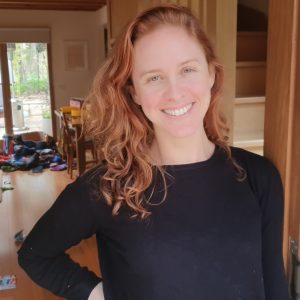 Keira de Hoog is a communications specialist with a ten-year background in publishing and community development. She is passionate about the effective use of stories, articles and cross-cultural resources to bridge gaps in understanding that helps to create lasting social change.
Keira's Orientation to Arnhem Land August 2021.
Natasha Kastrissios — Project Editor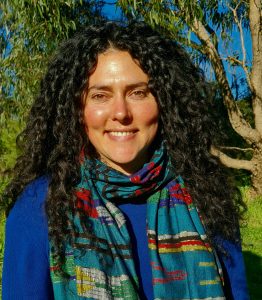 Natasha Kastrissios is a writer, editor, and advocate for Indigenous rights and systemic change. During her life, Natasha has managed a 3km rainforest hydroelectric system, bookkeeping and ticketing for major events, and enjoyed tending small gardens in rural locations all over the world. Natasha has been given a Yolngu skin name, Baŋaḏitjan, by her adopted Yolngu family.
Dr Kerry Mills – COVID:19 Consultant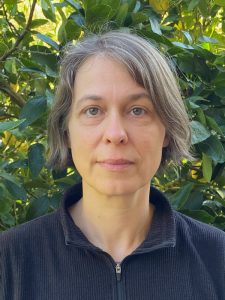 Dr Kerry Mills is an expert in microbiology and comparative efficacy research. She has a Bachelor of Science (Honours) from the ANU and a PhD in molecular parasitology from the University of Melbourne.
Kerry did her Honours work researching HIV at the John Curtin School of Medical Research in Canberra. She went on to do her PhD at the prestigious Walter and Eliza Hall Institute of Medical Research in Melbourne. Kerry then moved to Heidelberg, Germany, where she undertook postdoctoral research on the Hepatitis B virus.
Kerry now runs a scientific consultancy, where she undertakes comparative efficacy work in the field of pharmaceutical drugs. She is also an adjunct Associate Professor at the University of Canberra, where she continues to do research.  She works with us as a pro-bono consultant on the Covid-19 podcasts and videos.
Melissa Anderson—Volunteer, CRM Administrator
Melissa Anderson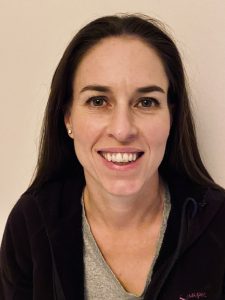 is a Chartered Accountant with 20 years of diverse financial and institutional banking experience. Melissa became involved in a volunteer capacity with Why Warriors in 2020 after visiting Arnhem Land while on sabbatical from her corporate career. She is based in Sydney and provides ongoing Customer Relationship Management administration and assists in ad hoc projects.