80% of diabetics in the program have maintained a significant reduction in their blood sugar levels over 6 months, and 50% are beating the recommended goal for diabetics (HbA1c below 6.5% - Diabetes Australia)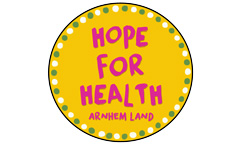 We have just completed our first Health Retreat on Yolngu Land incorporating Yolngu healing modalities and foods. This is a short highlight video of the retreat by doco maker Rob Tate
Hope for Health is a community driven project of Why Warriors, headed by a steering committee of 12 Yolngu ladies and Dr Kama Trudgen.
One in two adults in remote Indigenous communities like Galiwin'ku are struggling with chronic disease. This is a result of the marginalisation of traditional practices, and a lack of understanding of the link between lifestyle choices and health.
Hope for Health provides pathways for Yolngu people suffering from chronic disease to journey to good health through:
Access to intensive health retreats for a lifesaving and nurturing experience of lifestyle change See our facebook page for some photos of the first retreat on Echo Island
Education in the peoples own language to understand how nutrition can help them.
Access to health coaching and support through the journey of lifestyle change
Providing access to cooking and exercise classes, and nutrient rich food alternatives
Integrating of Medical treatment, regular testing, with access to Naturopathic advice and traditional medicines
Building on local Aboriginal traditional and knowledge with the best of mainstream scientific evidence
Our First Yolngu Health Retreat was a success. You can still donate here. We need ongoing help to support more Arnhem Land Aboriginal people to get control of their health.
"Here at Galiwin'ku there are funerals all the time. So many people, both young and old are affected by chronic disease and early death. We don't want to continue this way, going through this pain and suffering. We want a different future for this community." Dianne Biritjalawuy, HFH co-founder, then Galiwin'ku resident
Health Crisis in Aboriginal communities
When the American-Australian Scientific Expedition to Arnhem Land came in 1948, they found the Yolngu people were in very good health, with no chronic disease issues. Fast forward some 60 years later, and Yolngu people find themselves in the midst of a devastating health crisis.
The United Nations report 'The State of the World's Indigenous Peoples' (2009), indicated Australia and Nepal have the world's worst life expectancy gap between Indigenous and non-Indigenous people. Chronic disease is responsible for up to 80% of the mortality gap between Indigenous and non-Indigenous Australians.  Indigenous Australians living in remote communities are 4 times more likely to have Diabetes than other Australians.
In response to this crisis in living, Dianna Biritjalaway and her doctor friend Kama Trudgen have initiated this inspirational community driven campaign to improve Yolngu health through a combination of the latest Western nutritional science and the traditional Yolngu diet.
The vision of a Yolngu Heath Retreat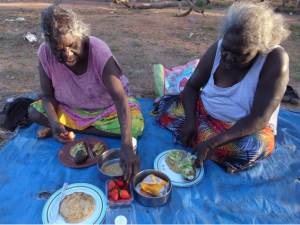 The Hope for Heath steering committee has a long term vision of establishing a permanent Health Retreat in Arnhem Land that forms a transformative hub for people to experience vibrant health. Combining the best of Yolngu traditional knowledge, modern nutrition, and alternative healthcare practices, it will be a powerful place of healing and health wisdom. The retreat will be run and staffed by Yolngu people, creating meaningful, culturally appropriate local employment options that not only nurture healing, but promote the re-establishment of local industry.
We have now run our first 2 week Yolngu Health retreat and we intend to do more each year, but the goal is to have somewhere people can come when ever they need.
A culturally relevant health-coaching program has been established created to upskill people with the knowledge and skills they need to maintain vibrant health in their community or homeland context, providing:
Nutrition education, built on, and revitalising, traditional knowledge and ways
Education on understanding chronic disease cooking and exercise.
Yearly Health Retreats on Yolngu land the first of which was held in September 2016
You can still donate to future retreats via our crowdfunding page which is open to donations
To find out more, visit the Hope for Health website.
Get right in the midst of this life changing program, join the HFH team.  We are now hiring.
See Vacancies for more information

.
Call 1300 501 795 if you have any questions.