Yolngu Online School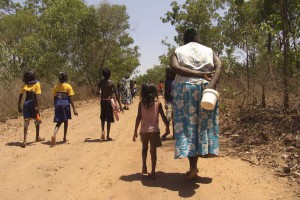 "What are we going to do now? I keep my children at home and teach them real manners, law, and respect. I know if they go to the community school they will only learn to be lawless adults. They will hardly learn to read and write, as I did in school in the mission days, so I keep them at home and teach them real things. 
Many Yolŋu parents desperately want their children to get a good education. But they have few options. The current mainstream schooling system offers them little real hope despite many trying. Lack of good culturally competency and cross-cultural communication skills leave many Yolŋu students struggling to learn and traumatised. This system destroys both the teacher and the students' potential.
To solve the problem we could fully train teachers in language and good cultural competency and communication skills. Despite the massive saving to government budgets and great outcomes that would produce no one seems to want to do this.
The other solution, which Why Warriors has been wanting to develop over the last 10 years now, is an online school. Produce a Yolŋu school, that once developed it can go on delivering real effective Yolŋu friendly education for many decades.
This would bring the full power of Yolŋu language and culture into play. Putting Yolŋu children in a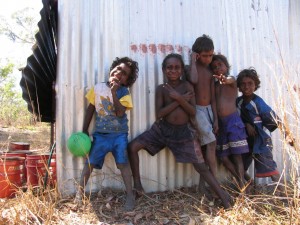 Yolŋu friendly, and safe learning environment. It could be used by Yolŋu parents as a self-learning resource or by the mainstream schools to turbocharge the classroom education.
Yolŋu students of all ages will learn how to read and write in both their original Australian own language (Yolŋu Matha) and English. All instruction will be Yolŋu Matha so the student does not get lost. It will also teach maths, world history and science, in Yolŋu Matha and English through to university level. It will be a tool through which Yolngu communities can control and drive their learning experience, combining the best of traditional and contemporary knowledge.
Save
Announcing our new Yolngu Learning Portal – Djamabatjmarram.com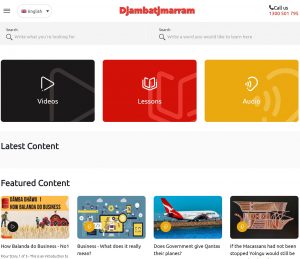 "Djambatj marram" means to "skill yourself up" or get trained, and this is what this new site offers. This is a game changer for Yolngu to gain basic fundamental and advanced knowledge across a whole range of subject that fill the knowledge gaps and clears the smoke on the confusion that contributes to the marginalisation of Yolngu communities.
The development of the site was funded by the Department of the Prime Minister and Cabinet and focuses mainly on education around economic and business development challenges as well as achieving improved general English literacy.  We have also added some programs recorded many years ago on important health subjects.
Djamabatjmarram.com is in its early stages and translations of the written content to Yolngu Matha and functionality are still being improved. But the site is up and running so Yolngu can make the most of the content as soon as possible.  Feel free to check it out and share widely, especially with your Yolngu friends.
This Site has the potential to incorporate an online Yolngu School.  If you visit the "Lessons" section, of the site, you will see our past pilot lessons in bilingual literacy as well as some new basic, primary school level, English learning content.
Plus the "Hardwords"  section, at the bottom, provides a place for advanced English literacy learning.  In this way, the site provides options for interest and discovery across all ages. This allows people to guide their own or the children's learning.  With the right future content development, it will give Yolngu access to real knowledge where they can effectively control their communities, gain greater access to work, build businesses, or engagement more effectively with mainstream training and conversations.
We think it will be as popular as our original pilot literacy learning portal back in 2012 demonstrated. When this platform was trailed with Yolŋu, the uptake was phenomenal, with young teenagers fighting to get access to the computers it was trailed on.
Djambatjmarram.com provides a whole range of new content, plus the old content, in a more user-friendly way. But the vision for a compleat Online Yolngu school that gives 10,000 + Yolngu access to real learning opportunities is far from complete. The long-term funding to staff its development is still needed.
Why Warriors on behalf of many Yolŋu parents and leaders are looking for private partners to help us build this online Yolŋu School.
Want to make a real difference to Yolŋu schooling, please contact us now.
Save
Call 1300 501 795 if you have any questions.