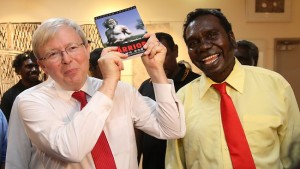 "Many books have been written about the Yolngu people of Arnhem Land, Australia. This one is very different. It speaks about the real situation that we face every day, a reality that is hard for people of another culture to imagine."
Rev. Dr. Djiniyini Gondarra OAM
Yolngu Clan Elder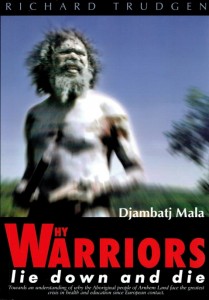 Why Warriors Lie Down and Die is essential reading for anyone interested in Indigenous peoples.
It offers deep insights for those who want a greater understanding of the issues involved in achieving true reconciliation, and provides hope and new direction for those searching for the answers as to why "the problems" seems to persist in Aboriginal communities.
In Arnhem Land, as in Indigenous communities across Australia, the situation is dire. Indigenous health in Australia is now so bad that 45% of Aboriginal men and 34% of women die before the age of 45. Aboriginal and Torres Strait Islander people are also massively over-represented in the criminal justice system. Western Australia incarcerates the Aboriginal peoples of its State at 9 times the rate of Apartheid South Africa.
Why Warriors Lie Down and Die provides a fresh analysis of this crisis and offers examples of how Indigenous people can once again take control of their own lives.
Finding the real causes requires the reader to look at it from the other side of the cultural / language divide – the side where the Yolngu people live. The book Why Warriors Lie Down and Die takes us to that side.
Told using a blend of critical and exploratory thinking, deep understanding of Yolngu culture, personal experience and powerful story-telling, Why Warriors is used by universities and schools across the country. This is a book for every Australian and is considered by many to be the essential handbook for people working in cross-cultural environments with Aboriginal peoples.
REVIEWS
"Why Warriors Lie Down and Die gave me a very good overview of the challenges ahead, an understanding of the history, and an idea of what to expect from my Yolngu patients. I recommend the book to every new Doctor that comes to work for us. I find it to be an essential read for people that aim to work successfully and respectfully with Yolngu."
Dr. Marco Briceno
Director of Medical Services, Gove District Hospital
"So far the best book I have read on Community Development and an excellent book to understand the history and current state of Indigenous Australia. A must read for all Australians. Although the book is concentrating on Arnhem Land in NT, Australia – its messages and the understanding it provides could be useful for anyone working with or wanting to understand indigenous people or minority groups living in a society dominated by another language and cultural group."
Paul Garrioch
Goodreads
"Extraordinary… the book taps into the psyche of Aboriginal people."
Rolf De Heer
Director, Ten Canoes
"Why Warriors makes gripping reading … with increased understanding comes direction and hope for the future … It deserves to be widely read."
Phillip Carson
Director of General Surgery
Royal Darwin Hospital

"5 stars. This book comprehensively explores the lives and stories of Aboriginal Australians from their own stories and in their own words. It portrays a sophisticated and just community which is quite different to the common misperception that Aboriginal Australians were nomadic and primitive. This is without a doubt the most humanising account of the Australian Aboriginal people that I have ever read, but be warned: it lights a fire for justice and empowerment that may just take you to the far reaches of Australian civilisation."
Leo Boudib
Goodreads