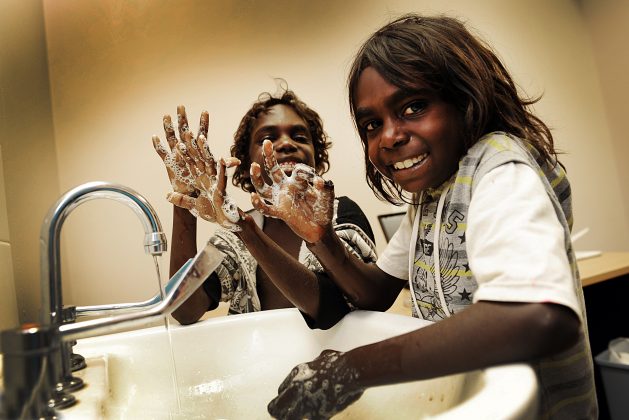 Posted on March 24, 2020
Navigating COVID-19 when you don't understand English
MEDIA RELEASE
FOR IMMEDIATE RELEASE     24:03:2020
Aboriginal communities in North-East Arnhem Land in the Northern Territory are urgently looking for information about COVID-19 in a language they can understand. Thousands of Yolngu people in this region speak English as a second or third language and are struggling to fully understand government and health organisations' instructions.
Aboriginal people have the highest rates of Chronic Disease in the world. This combination of existing health problems and over-crowded housing means these communities are already at particular risk from COVID-19.
Arnhem Land based organisation Why Warriors is working to supply Yolngu communities with accurate and culturally appropriate information about the pandemic.
They have released COVID-19 podcasts spoken in the local traditional language, Yolngu Matha, which has nearly 5000 speakers across the region and also in Darwin. The podcasts also contain English subtitles. This allows health clinics and medical staff to listen together with Yolngu and have an informed conversation.
https://www.whywarriors.com.au/learn/aboriginal-communities/covid-19/
Pat Turner, the CEO of the National Community Controlled Health Organisations (NACCHO), said "If this virus gets into Aboriginal communities, it will be absolute devastation, absolute devastation without a doubt."
Why Warriors is hoping these podcasts in Indigenous language will help people in Yolngu communities understand what COVID-19 is and how they can help stop the spread.
——ENDS——-
For further media information contact Richard Trudgen
Email: richard.trudgen@whywarriors.com.au   or call 0400 880 954
Richard Trudgen has been working with Yolngu people in Arnhem Land for over 40 years. He speaks Djambarrpuyŋu and is the author of Why Warriors Lie Down and Die. He is the CEO of Why Warriors Pty Ltd, a community development organisation that empowers Yolngu and other First Nations people by providing access to information, and building capacity and understanding between Indigenous peoples and the Dominant Culture. In 2015 he was a finalist for the NT Senior Australian of the Year Award.
Call 1300 501 795 if you have any questions.