Timothy and Kama Trudgen are the founders of the AHED project and the first facilitators to have made the move onto an Indigenous community in NE Arnhem Land. They have done the initial work of establishing the project in the community in Galiwin'ku and will continue to play a major role in developing the project over time. Both can communicate in Yolŋu (Yolngu) Matha (the major Indigenous language of the NE Arnhem Land region) and have existing relationships throughout NE Arnhem Land. Shelley Houghton has returned to the team as a facilitator and experienced educator. She brings decades of experience in community and economic development to the team.
Team leader: Timothy Trudgen
BSc (Hons), BA (Anthropology)(Hons)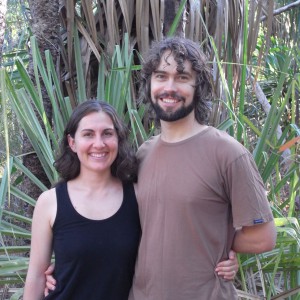 Timothy Trudgen is a cross cultural educator and consultant, who has worked closely with the Yolngu people of North East Arnhem Land  for more than seven years. He is proficient in the Yolngu language and has extensive knowledge of Yolngu culture. His work has involved him providing education, training and cultural support to Indigenous and Non-Indigenous Australians, to help them understand each other's worlds. Tim's work builds on the 35 years that his family have been working in the Arnhem Land region empowering Yolngu people.
Tim has been involved in adult education in Aboriginal communities across north east Arnhem Land. He uses the people's own language and cultural concepts to dialogue around important topics in the areas of health, politics, and economics. Tim's previous studies in both Science and Anthropology equip him well for this role.
Recognising the importance of  economic development, Tim also began developing facilitation and training methods to develop Yolngu family-controlled small businesses. His 5 years of experience in Yolngu business development gives him insight into the barriers that prevent Yolngu people from succeeding in economic endeavours. His work in health education has also given him insight into the social complexities in these communities. His language and cross cultural skills have made him accessible and trusted in his roles with Aboriginal people, and his knowledge of traditional culture has helped him in finding creative solutions to overcome communication and education barriers. Such language and cultural skills will prove essential for the facilitation of all forms of  enterprise in these communities, to overcome the communication barriers between Yolngu clients and Dominant culture systems, support persons or business partners.
Tim is passionate about breaking down the barriers that exist for Yolngu people in remote communities gaining mastery over their lives and together over their communities. The Yolngu people are a very resilient people, but they feel almost defeated and shackled. Historically it was the colonial machine that threatened them, but now it is a development  machine that operates beyond their influence, and in ignorance of their voices. Tim longs to seed development approaches that are not only culturally aware, but are based on compassion, and commitment to human needs; approaches that offer freedom, not coercive or paternalistic approaches. Tim enters this project with a vision for change in Yolngu communities,  but also with a determination to use processes that do not compromise the basic truth that human development arises from human personal potential.
"Every person has a God given seed that they might grow to splendid purpose, but so often the seed does not grow unless there is another whose purpose it is to see it planted."
Kama Trudgen
MBBS
Kama Trudgen is a medical doctor who has worked as a General Practice Registrar in an Aboriginal Medical Centre and moved sideways to become an enterprise facilitator with the AHED Project in 2009.  She is now a coordinating partner in the Hope For Health enterprise in which local people are trying to create a space to help others manage and heal chronic diseases with diet and lifestyle change. She is particularly passionate about preventative medicine and about empowering people.
Throughout her Medical training she worked in a variety of challenging cross cultural settings, including practicals in Brits (South Africa), Herbertpur (India) and Jabiru (Arnhem Land). She worked for two years in Logan Hospital, in a low socio-economic area on the outskirts of Brisbane. She started her General Practice Training at Moil Medical Centre, a small bulk billing practice in the suburbs of Darwin that caters for a diverse multicultural low socio-economic clientèle.
Her work has given her first hand experience of the complex problems experienced by Indigenous peoples, and the challenges in overcoming them. The poor health outcomes of Indigenous people in comparison to the wider Australian community, is something that has receives much media attention. Chronic disease has recently been shown to be still on the increase in Aboriginal Communities, despite the "Closing the Gap" initiatives. From Kama's experience working with Indigenous patients, it is very clear that no outsider can close this gap. No one can come in and make others healthy. That is something that is only possible for a person to achieve for themselves. Support, education and resources are needed to come alongside people and be available to guide them, but they need to own and control the process.
Kama has stepped outside the Western medical model of health care delivery, to make herself available to people on their own terms. She believes our physical and emotional health is so entwined with our lifestyle, our sense of hope and control and our ability to contribute in a meaningful way to our society. With such complex problems, Kama believes that the best place to start to turn this tragic situation around is to start with the people, and enable them to become all that they were made to be.