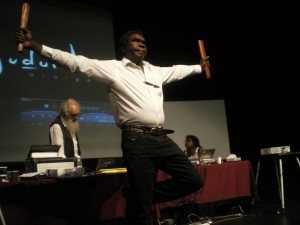 Is Why Warriors cross-cultural training relevant for others outside of Arnhem Land? This is a question that we are asked quite often when people approach us to meet their training needs.
Due to the fact that we work with the Yolŋu people of Arnhem Land, they are the group of people most familiar to us, and therefore Yolŋu culture is used as a case study in most Why Warriors training. So it is only right that we are asked if Why Warriors training is relevant for other Aboriginal people who live in other regions of Australia. This is a question we also originally asked ourselves.
After the book "Why Warriors Lie Down and Die" was released in 2000 we started to get correspondence from all over Australia and from many different Indigenous peoples around the world telling us that the issues covered in the book were the same issues affecting their own people. We then realised that by speaking about the crisis facing Yolŋu people and the issues behind their crisis we were also speaking to the same human reality that exists in the lives of so many other people around the world.
Today, many Aboriginal people across Australia who are training non-Aboriginal people use the book "Why Warriors Lie Down and Die" as one of their main reading materials for their participants, and some also attend our training. They say to us things like, "You guys are saying things in a way that we have always wanted to say but we did not know how to say it".
Our training covers theory, skills and understanding that we believe is relevant for the whole of human society. Disciplines covered include; human dynamics, international community development theory, linguistics, cultural awareness and effective cross cultural communication. We also only teach what we have already practiced and what we have discovered really works on the ground with the people. So when stories relating to Yolŋu people, their culture and language are used, they are used as examples to give substance and depth to the issue being discussed – you might say to "put wheels on it".
No culture can be taught in a few hours, or even days, but everyone can learn theory and skills that will help to become more culturally aware and more effective in cross-cultural situations. We can all understand new ideas and experience new experiences. Things that we may have not known were part of or even existed in different human cultural groups can be brought to light. We can become more skilled at effectively traversing the gulf between different cultures and language groups.
So many who go out to work with or for Aboriginal people, or people of another culture, go ill-equipped and unprepared; it is as though failure has been written into their contract. They start with great expectations but sadly instead of their experience being a productive and fulfilling one, it commonly becomes a disaster for them – and many times for the people they go to work with also. Good training can avert many of the problems these workers may face, making the same experience much more productive and positive.
We all need to recognise and become aware of our own culture, how powerful a force it is in directing our daily lives, and how it impacts people on both sides of the cultural divide when two cultures clash. We can all learn how to communicate and live together in a more effective and efficient way.
Then we can go out into our local area better equipped to know, understand and appreciate the people we live and work with. Together we can also help these same people move from their present situation to a place where they have more control over their lives. We can assist them to discover untapped potential and resources, find new ways of solving old problems, while we also discover that our own true liberation is tied to their full expression of life becoming mature.
So unless we are doing the training session in north-east Arnhem Land, Yolŋu culture is used in our training as a case study only. We do also draw on examples from other regions where appropriate.
Our training has been delivered all over Australia in big auditoriums, boardrooms and small venues in isolated communities in a wide range of places including in Sydney, Melbourne, Adelaide, Canberra, Darwin, Alice Springs, Port Augusta, Kununurra and in Arnhem Land over a thirty year period. People from all these areas are recommending our training to a wide range of people outside Arnhem Land.
Today our material can be delivered digitally to small or very large audiences. We now also offer some modules online. This training goes to mixed groups via the internet.
Because the training is aimed at teaching a bicultural mind and skill set, participants working with Aboriginal people from Redfern in Sydney to Kununurra in WA, have confirmed that the training works well for them. They have reported that it has changed their thinking, answered questions they carried for many years, and given them new ideas. It has also equipped them to work in a more productive way with the local Aboriginal people and to understand cross cultural issues in a clearer and more  productive way.
Richard Trudgen Oct 2012