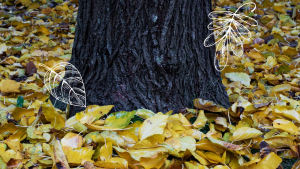 Phyllis B Burarrwanga, with Richard Trudgen
Gaypalalini and Matamata Gurruwiwi have given permission for release of this story and video.
Download the full article here: Phyllis B Burarrwanga's Dry Leaves Story.
Full video of the interview below:
It was the hope of the late Phyllis B Burarrwanga that her mayali'mirri dhäwu, story of deep meaning, would broaden the debate on how to help and empower the Yolŋu people of Arnhem Land in the Northern Territory, and other Aboriginal groups. Phyllis explains how Yolŋu and many other First Nation people like her, are mystified and confused, about the mainstream Balanda, Western world, that controls their lives.
Yolŋu have had less than 100 years contact with mainstream Australian society and are now in a situation where chronic miscommunication and failed contact practices are devastating.
"how we see … the world. It's complicated to us… they [the Balanda] don't know [the] Indigenous world, they don't know how we feel. And how we see it. And then like transferring to the white society… they still clashing. When will I know about government rom [law and ways]?"
Phyllis Burarrwanga, a Yolŋu elder, spoke to Why Warriors CEO, Richard Trudgen, on camera, at her home in Galiwin'ku.
"…you sitting beside with us Yolŋu, you're drinking and eating ŋatha [food] with us. So you're sitting on the ashes of the Yolŋu people. You're getting the truth… not from the leaves. You're getting it from the roots."
For any tree to survive and grow it needs to be a complete system. The tree has leaves, branches, a trunk, but its leaves cannot grow unless nourishment comes from the roots deep down.
Yolŋu people need access to the Western world's information and knowledge, in order to be able to function as equal citizens. As a result of colonisation, many Aboriginal people in the south now speak English as a first language and have acquired large amounts of the mainstream culture's worldview, information and knowledge. Some, though, still have massive gaps in their cultural knowledge base about how the mainstream Australian culture operates.
"[We are] in the dark side….not in the light side," says Phyllis. "One example I'm talking about… when the green leaves turn into the yellowish colour, and then it turned into the brownish, then it's [they] drop-down. That's not the full information. That's telling us that we… just there for nothing."
"That's what Yolŋu feel like. they feel like they're green leaves… turn into dry leaves, just drop down?" Richard asks her, and Phyllis agrees, "yes, because we don't have that dhäwu [the foundational information]. We not getting the dhäwu, [the information from the roots]."
Young Aboriginal people are, in general, losing respect for their elders because their elders do not understand the mainstream world. So, they see their language and cultural ways as unsophisticated and primitive, just as the mainstream presents them. Many believe that they are born on the wrong side of history, which can lead to deep psychological problems, drug abuse, and radicalisation against the mainstream order.
Many young Yolŋu go to training institutions and receive certificates but they come away with no real understanding of how the Balanda world works. They are still not 'world literate'.
In the early 1980s Richard was explaining the 'Knowledge Tree' story to a group of Balanda and Aboriginal leaders from across the Territory, when one of the Aboriginal leaders from Katherine, a long way from Arnhem Land, said, "Yes that's a story like we have but we have another part to it. Sometimes we get so frustrated and angry with the Balanda for not telling us this important hidden information. So, we grab the bush/small tree by the stem and try to put it out of the ground. But the roots break off and we don't get the information we need."
Yolŋu need to understand mainstream legal, economic and governance systems and processes otherwise they will not be able to find a way forward. However, Yolŋu need to receive this information in a way that makes sense to them, in their language, and through a process that builds on the knowledge that is already familiar to them—their traditional cultural knowledge base.
They need well-implemented community education programs, aimed at delivering the fundamental information that is key to their empowerment and freedom. This needs to be run from a community development perspective, along with other special empowerment programs.
Yolŋu also need special language self-learning tools to close the gap, and competent two-way dictionaries. In effect, they will need to become bilingual and bicultural world-literate citizens. To date, there is no comprehensive English–Yolŋu dictionary. Without this, cross-cultural hurdles cannot be surmounted.
Since telling her story, Phyllis sadly passed away; an early death that was likely avoidable. It is our hope that Phyllis's Yolngu colleagues, and the younger generations, do not have to live through the same crisis of communication within the dominant Australian culture that she struggled with all her life.
After the camera was switched off, Phyllis said something else that struck Richard. "The Balanda are not interested in us older Yolŋu anymore. Now they come to get the young green leaves from the tree to take to college." While these opportunities for education are well intended, the reality is that these programs continue to produce 'dry dead leaves', which fall from the tree well before their time.
Note:
The above-unedited video is straight off Richard Trudgen's camera, complete with wind noise. Since Richard did not have recording equipment at the time we apologise for overall sound quality.
It is important to note that English uses joining words, prefixes and suffixes, plus word order in the sentence to create the grammar syntax structure. Yolŋu Matha language grammatically is a lot more complex, using suffixes with no joining words plus a loose word order to create the grammar syntax context.
In much of the video conversation few joining words are used even when English is spoken.  This is because Phyllis and her Yolŋu colleagues are having to learn English without a structured English learning program (see full article for details). When no structured learning program exists in a new language then the grammar structure of your first language takes over the grammar structure of the new strange language you are learning.
This is why Aboriginal English and Creole languages now exist all over Australia. Without well-constructed English learning language programs, communication between First Nation People and the dominant Australian culture will always be crippled, leaving the people in a communication deficit condition.
The conversation in this video is a little difficult for many English first language people to follow. But it is a good example of the cross-cultural cross-language communication problems that occur in many Yolŋu communities across north-east Arnhem Land and beyond.